On September 3, 2019, North Carolina Governor Roy Cooper issued a mandatory evacuation order, effective at 8 am on Wednesday, September 4, 2019 which applies to barrier islands along the entire North Carolina coast, from the Virginia line to the South Carolina line.
The mandatory evacuation order comes short on the heels of the Dorian's declaration of a state of emergency.
The original PDF of North Carolina Executive Order 104 is here and pasted below. The evacuation order applies not only to Topsail Island, but also to Emerald Isle, Oak Island and all barrier islands.
September 3, 2019

EXECUTIVE ORDER NO. 104

MANDATORY EVACUATION ORDER FOR ALL NORTH CAROLINA ISLANDS

WHEREAS, the State of North Carolina is under imminent threat from Hurricane Dorian ("Hurricane"), which is anticipated to pass or make landfall on or about the evening of September 4, 2019; and

WHEREAS, it is expected that those in the Hurricane's path will be exposed to a substantial risk of injury or death; and

WHEREAS, it is also expected that the Hurricane will cause significant damage to public and private property and may seriously disrupt essential utility services and systems; and

WHEREAS, the potential impacts from the Hurricane constitute a State of Emergency, as defined in N.C. Gen. Stat. 166A-19.3(16)•, and

WHEREAS, the undersigned issued Executive Order No. 101 on August 31, 2019, declaring a State of Emergency; and

WHEREAS, Executive Order No. 101 further invokes the Emergency Management Act which authorizes the undersigned to exercise the powers and duties set forth therein to direct and aid in the response to, recovery from, and mitigation against emergencies; and

WHEREAS, the undersigned requested an emergency declaration from the President of the United States on September 2, 2019, to provide for Public Assistance and direct Federal Assistance to the state, as those terms are used by the Federal Emergency Management Agency; and

WHEREAS, N.C. Gen. Stat. SS 166A-19.10(b) authorizes and empowers the undersigned to make and amend orders, rules, and regulations within the limits of the authority conferred upon the undersigned in the Emergency Management Act; and

WHEREAS, the execution of emergency powers under N.C. Gen. Stat. 166A-19.30 is appropriate to ensure the public safety of residents and visitors located in the state; and

WHEREAS, coastal municipalities and counties have begun the process of issuing evacuation orders in advance of the Hurricane's anticipated movement along the North Carolina coast; and

WHEREAS, the undersigned strongly recommends that residents and visitors follow the evacuation orders issued by North Carolina counties and municipalities; and

WHEREAS, pursuant to N.C. Gen. Stat. ss 166A-19.30(b)(1), the undersigned has determined with the concurrence of the Council of State, that a state-ordered evacuation is necessary for the preservation of life in the surrounding threatened areas or for other emergency mitigation, response, and recovery efforts.

NOW, THEREFORE, by the authority vested in me as Governor by the Constitution and the laws of the State of North Carolina. IT IS ORDERED:

Section 1.

I hereby declare that a mandatory evacuation order is in effect for all people residing or visiting the islands located on the coast of the State of North Carolina, including the barrier islands of the state. For purposes ofthis Executive Order, island is defined as "a piece of land completely surrounded by water."

Section 2.

This Executive Order does not apply to emergency personnel who are operating on the islands to secure public safety or infrastructure requirements, or to acute and emergency medical care providers.

Section 3.

Municipalities and counties have the delegated authority to implement this Executive Order pursuant to N.C. Gen. Stat. 166A-19.31.

Section 4.
This Executive Order is effective at 8:00 a.m. on September 4, 2019, unless a different evacuation time has been ordered by local government officials. In such instances, the time ordered for evacuation by local government officials shall apply so long as that evacuation time is before 8:00 a.m. on September 4, 2019.

This Executive Order shall remain in effect until rescinded or superseded by another applicable Executive Order.
As of September 3, 2019, the National Weather Service is expecting a very big storm surge to the Surf City area. You need to leave immediately.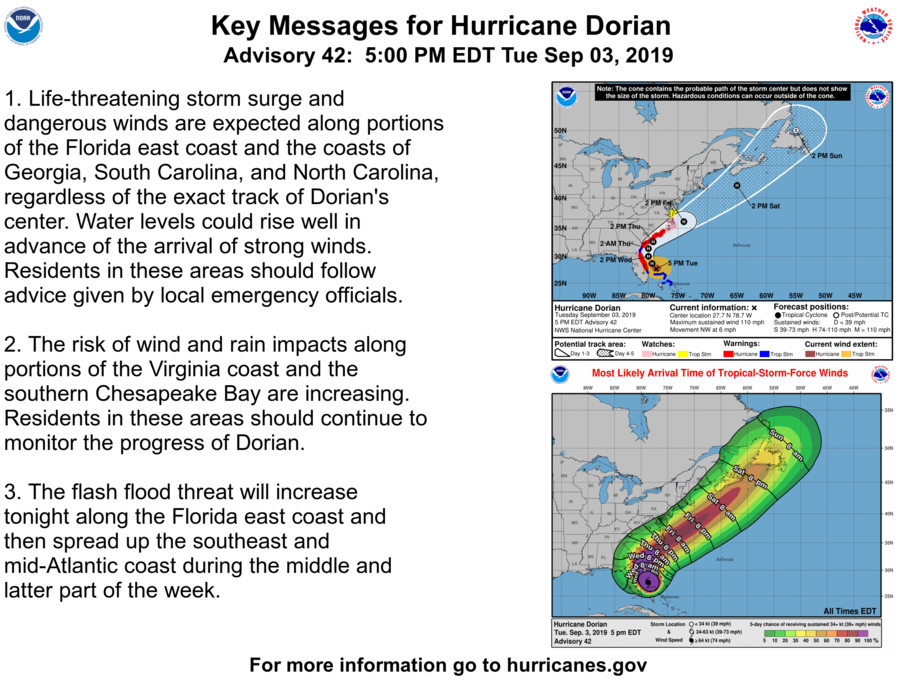 The Town of Surf City also ordered a mandatory evacuation for September 4, 2019 as well. The original PDF is here and it reads:
Current Storm Status:

Dorian is currently a category 2 hurricane with sustained winds of 110 mph.  The current track brings the storm's center roughly 24 miles off our coast as a Category 2 storm on Friday around 2AM.  Expect storm surge and rough surf.  Tropical Storm winds will extend 160 miles from the center and hurricane force winds will extend 50 miles from the center. We are currently under a storm surge and hurricane watch.

Current Town Status:

The Town of Surf City's Mayor Medlin declared a State of Emergency at 12PM on September 3, 2019. The following restrictions and prohibitions are imposed:

September 3, 2019 at 12PM:  

Voluntary Evacuation, All Town Residents

                           &

Mandatory Evacuation, All Tourist/Visitors

 

September 4, 2019 at 12PM:  

 

Mandatory Evacuation, ALL ISLAND Residents 

 

As of this afternoon, the Governor Roy Cooper has issued a Mandatory Evacuation for all barrier islands, which includes Topsail Island, effective Wednesday at 8AM.  This evacuation supersedes our previous Mandatory Evacuation for all island resident's tomorrow at 12PM.

Information to Know:

Evacuation Issued – The Town of Surf City has issued a Voluntary Evacuation for all town residents and a Mandatory Evacuation for all visitors, starting at Noon, September 3, 2019. Beginning tomorrow Wednesday, September 4, 2019 at 8AM Governor Roy

Cooper has issued a Mandatory Evacuation for barrier islands, which includes Topsail Island.  Island residents will have until 8PM Wednesday to secure and decide if they are leaving or staying.

The Mandatory Evacuation issued Today at noon for the visitors/tourist was done to let them know we are asking they prepare themselves to leave, as we hope they have been watching and preparing for departure for the last couple days.  This will allow property owners and management companies a chance to secure and prepare rentals.  The visitors/tourist will have until tomorrow to evacuate, but we are asking they cooperate and follow the instructions of the property owners and management companies.

Mandatory Evacuation Defined – The purpose of issuing a Mandatory Evacuation is to inform the residents/visitors this is their last chance to evacuate. This also means that utility services and emergency services may be unavailable during the storm. Anyone choosing to ignore the mandatory evacuation order and remain on the island should do so with the full understanding that there could be a point in time when no police, fire or medical personnel will respond no matter the nature of the problem. Safety for residents, visitors, and staff is and will remain a top priority.  Please plan accordingly and do what makes you safe.
Water and Sewer Service – The Water/Sewer Department will begin shutting down the services on the island, and JH Batts Road and east at 12noon tomorrow. You will not be guaranteed services after 12noon on Wednesday, September 4, 2019.  Water and sewer services must be shut down in order to protect infrastructure due to staff not being able to respond to issues when they arise.  A shut down is needed also to ensure the system is not contaminated when services are restored, which could jeopardize the health of those using it.
Electricity – The Town of Surf City does not manage the electric service. The electric service will be available until the storm event disables it, if that occurs.  It will not be shut down.  It could be days before it can be restored depending on storm damage.
Trash Service – There will be no Friday trash service for Friday, September 6, 2019.
Personal Preparation – We encourage everyone to take necessary steps to prepare themselves. Have at least 7 days of food, water, medications, cash, fuel, and other similar necessities on hand, in the event that you are unable to restock your supplies for an extended period of time. Please use the next couple days to secure items on your property. It is better to be over prepared for nothing than unprepared for a major weather event
Bridge Status – Based on bridge guidelines along the coast our emergency service leaders may have to shut the bridge down to vehicles if we have SUSTAINED winds of 45mph. Sustained means winds are holding for longer than two minutes.
Key Cards – All previously issued KEY Cards are still valid; they do not expire nor are they transferable. If you do not have a KEY Card at this time you can still gain access to the island in the event of an evacuation with a valid ID and utility/tax bill and/or deed.
Council Meeting – The council meeting scheduled for September 3, 2019 has been cancelled. Please use this time to continue to prepare.
Town Staff/Personnel – Town Hall and non-essential operations will be closed starting Wednesday, September 4, 2019 at noon. We are operating out of our Emergency

Operation Center as of today.  Staff continue to prepare. All beach accesses and restroom facilities will be closed beginning Tuesday and will remain closed until after the storm. Equipment and necessities are being gathered by town staff.  Utilities is preparing services in case of a needed shutdown.  Police and fire are preparing rescue equipment and services.  All parks and recreation activities have been cancelled for the week as staff are involved in preparations and logistics of emergency management. An Emergency Management briefing is scheduled on 9/4/19 at 9AM for all key staff.

Beach Update – The public beach accesses will begin to be shut down today. Some of these accesses have drop-offs, so please use caution if you use it before we are able to close it down.  Tides and surf are higher than normal, we discourage anyone enter the waters at this time due to riptides.
Shelters – Pender County will begin to open Shelters Wednesday, September 4, 2019 at

2:00 PM. Please visit http://www.pendercountync.gov/em/emergency–management/shelter–information/ for more information. Onslow County will have shelters open Thursday, September 5, 2019 at 7:00 AM. For more information from Onslow County shelters please visit https://www.onslowcountync.gov/1071/Sheltering–Evacuating.

Other Information:

If you haven't already, sign up for the Surf City Code RED Emergency Alert System. Visit the official town website at www.surfcitync.gov, click on the "EMAIL AND PHONE ALERTS" menu button on the left menu bar, and complete the online form.

Follow the Town of Surf City @surfcityncgov page on Facebook, Surf City Emergency Management Twitter page @surfcityem, and monitor our website for new and critical information.