My adventures in Topsail Island began around 2004. I owned a computer store in Cary, North Carolina, and one of my clients had a lot of work done on their laptops. When it was time to pay, he asked me if I had been to Topsail Island. I had not. I ended up visiting the island about 5 times a year up until 2016 when I became an AirBNB Co-host for the property.
The owner was debating selling the property after he moved out of state. I suggested renting the property for two reasons. One, according to my calculations, he could make around $50,000/yr on the property. Two, I would get to stay at the house I had so many great memories in. I was "the boots on the ground".
The arrangement we arrived at was fair. I would manage the property for free. This was a huge savings over the 27% the previous property management company charged. I would also use the house in the off season. For free. Now, months would go by without me being there- it isn't like I need a place to stay – I already own several homes myself west of Raleigh. However, I work from a laptop and travel and love having a place to go visit. My favorite time to go is on a Monday afternoon. I would also pay for nuisance repairs. I enjoy fixing little things and it's just easier for me to go ahead and fix small problems rather than go track the owner down, figure out how he is going to send me $75, wait for the payment, scan and mail receipts, etc. I place a very high value on my time, so I don't waste it, or anyone else's.
I generally also stayed at the house two weeks during the prime season. After 6 weeks of tenants being in there, there are always repairs, so this worked out really well. Cleaning HVAC coils, getting sand out of pipes, treating the property for insects, repairing toilets, replacing switches and light bulbs are all duties I fulfilled during the summer. This also allowed me to stay on good terms with the nearby neighbors who were always happy to assist if there was an issue which needed immediate attention.
I currently offer this service to ONE homeowner. If you'd like your house managed on AirBNB go here.
Managing the house.
Tenants ask questions via AirBNB. So do potential tenants. I have the app on my phone and answer them instantly.
When tenants arrive they ask for the WiFi password, what the combination is to the front door, and what they're responsible for cleaning when they leave (I supplied everyone with this information ahead of time, but they ask anyways).
During their stay they ask questions about the breakers, where they should eat, if they can use the grill or not, if they can have friends over, and if they can stay an extra few days. Handling these issues promptly, professionally and courteously is critical.
Tenants ask if they can check in early. After you say no, some arrive while the maid is present. I then get a call from the maid telling me that either the tenant leaves, or they do (as the maids do not want to be alone with a complete stranger). I then communicate to the tenants their check in time. This only occurs around 25% of the time.
Most tenants leave on time, but some take an extra hour or two to get going.
I proactively met with the maids and created a buffer as they're used to this behavior. I set checkout at 10AM, and check in at 3PM. The maid's window to clean is 11AM-2PM.
I kept linens on hand and told tenants to bring their own. Some used a linen service, others purchased their linens at Walmart and tossed them when they left. If someone called me in need of linens, I told them they could use the linens in the owner's closet, they'd just need to clean them and put them back. I had mixed success with this, but most people brought theirs, so it wasn't an issue.
Four sets of comforters is a good number. Every couple of weeks when someone checked in I told them to swap the comforter on the bed out with a fresh comforter if they felt the need to do so. Everyone took advantage of this. On my trips to Topsail I'd bring along 2 freshly cleaned comforters and swap them out with the used comforters.
Pest Control.
The first year I was plagued with calls about roaches. The owner had used the same service for years. They'd come in and spray insecticide once a month. This insecticide killed the ADULTS. A week later, insects were all over the place again. We both spoke to the insecticide people, they apologized, sent a manager out, and began spraying twice a month at no extra charge. This resulted in dead roaches everywhere and new outbreaks every week.
After careful research, I fired the pest control company and implemented a 4 course regimen. It turns out that roaches are like fleas. Killing the adults is just a waste of time.
I killed the adults
I put down an insect growth regulator for the next generation
I put down bait to kill the youngins
I re-caulked the bathroom after discovering where the problem began.
This meant after eggs hatched, the young ones would either eat the bait and take it back to the others and die, or, the (IGR) insect growth regulator would disrupt their reproductive organs and prevent them from creating new roaches.
The roach problem was solved, and a little proactive work from time to time ensured there was never another outbreak ever again.
This also saved $150/mo, or $1,800/yr.
AirBNB Reviews.
Everyone who has ever stayed left a 5 star review, even people who had roaches on their forks. This only happened due to my 13 years of experience running a computer store, which taught me a thing or two about customer service.
On AirBNB, CoHosts do not get reviews. It's terrible.
In general, you leave a tenant a review, then they get a notification to leave the property owner a review. Once they've also left a review, the reviews show up on the tenant's page and the property owner's page.
Making people really happy.
I've been personally staying at some AirBNBs around the country lately. The best thing ever is to have a little binder that greets people.
In the binder there should be a simple greeting, welcoming people, and asking them to be respectful. I also urge people to tell me if they break something – I won't be mad, I just want to fix it. The binder then tells people where the aloe is, where the medical kit is, where the fire extinguisher is, where the smoke detectors are located. The binder then tells people the WiFi password, basic beach rules, and how to get me on the phone, or better yet, text. The binder then tells them my favorite restaurants and to get out onto the beach!
How AirBNB payments work.
When a tenant wants to stay, they do a request to book. At that time they pay half of their money up front. As vacation nears they pay the rest of their trip off. They also pay a $300 damage deposit up front which they get back later.
Tenants pay all taxes, which is awesome.
Once people are checked in, AirBNB releases the funds from escrow into the owner's bank account via an electronic transfer which takes about 48hrs. Since people on Topsail Island and Surf City generally check in on Saturdays, money hits the owner's bank account on Tuesday.
There are multiple options for refunds, and the best option is to use a strict policy of no refunds unless they decide not to stay 30+ days in advance, and even then there's a penalty. I never had anyone back out. Even if they did, it wasn't a big deal, as I generally waited until the last minute to put the house on the market. This was a strategy that paid off very well for me, as I had the ONLY house on the island available for rent and could charge whatever I wanted. This also allowed me to get the owner more money than he wanted. He even felt bad about it at first and asked me to give people $500 refunds. I said HECK NO! lol.
Storms and refunds.
I wrote a detailed article about refunds after storms here. In general, if someone was going to stay and a hurricane comes, you need to give them a new date to stay or a refund. Historically, I moved everyone into a new date.
I love Topsail.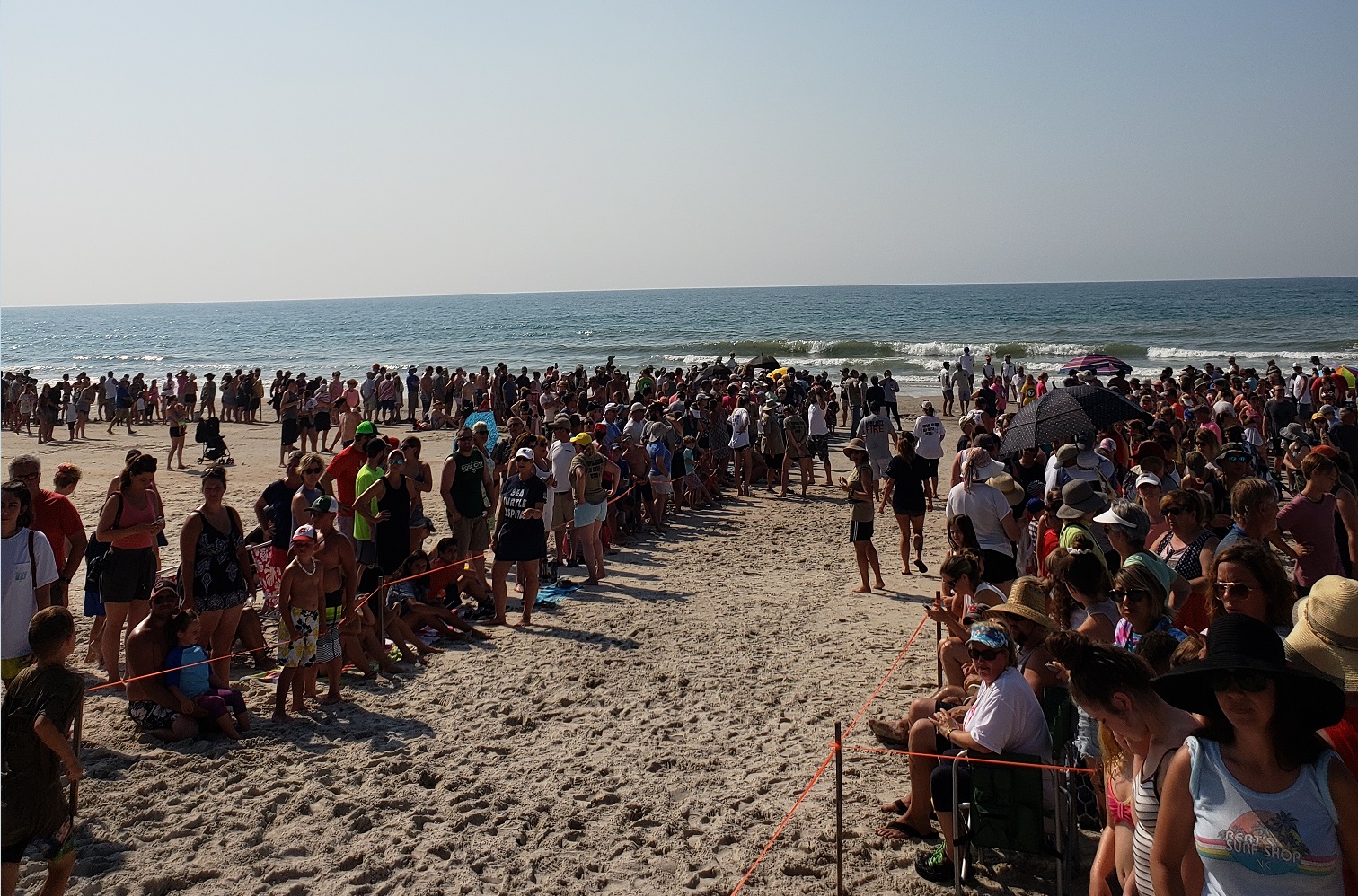 I've been to Emerald Island and Myrtle Beach and nothing compares to Topsail. My broter in law proposed to his wife right on the beach in front of me. I've caught a ton of fish on the beach (literally). I've seen turtles lay eggs – I've seen turtles hatch and run into the ocean – I've seen turtle releases – I've even rescued an injured turtle. We've had so much turtle time my wife got a turtle tattoo. I know dozens of the business owners in Surf City and have had lunch or coffee with many of my fellow entrepreneurs. Being an AirBNB CoHost has been a lot of fun.