All rentals are provided through AirBNB. When the listings are active, a link will be provided to the associated AirBNB listing. At checkout state and county sales taxes are collected as well as a security deposit which AirBNB refunds. To date, everyone has always received a refund. All homes are smoke free and no pets are allowed. Homeowners, go here.
Update 2020: I am not currently renting anything but if you've stayed at an AirBNB house I've rented in the past feel free to email me and I'll point you to where the house is currently listed. 🙂 I may have a couple leads on off season, ocean front, month long rentals as well.

Email me here to get on my mailing list.
Fog King – 2004 North Shore Drive
"It's a Fog King Great Time!"
Update 2020: Sorry for the lack of maintenance on this page. This house has been sold and is currently managed by Access Realty. I've personally used them as a tenant and other than all the fees I was found the process to be very smooth. I have reached out to the new owner in an effort to determine the future of the Fog King but for the moment, if you'd like to continue making memories at Fog King please contact them as I can not help you.
Update 2018: The fate of the Fog King is unknown as the owner debates selling the property. Hurricane Florence ripped the deck off and the place is on hold until dunes and sand are restored in this part of the island. Several repairs will be needed before it may be rented again. It will likely be for rent again soon, but, at the moment I can't commit to anything.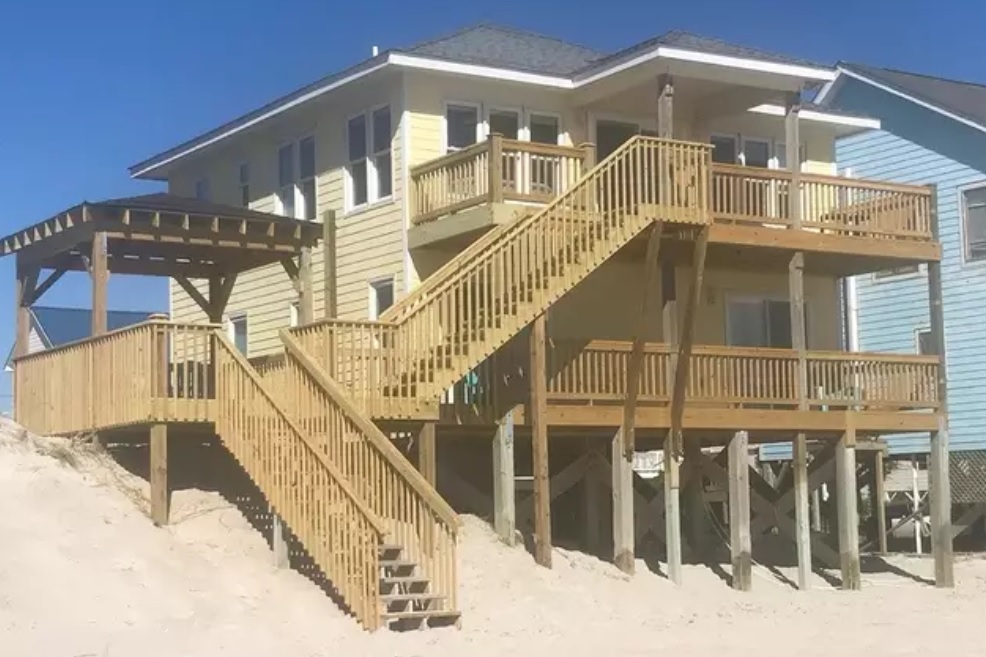 This oceanfront beach house rental is right on the ocean.

Rent this beach house via AirBNB here.
Reviews (as seen on AirBNB):