Will Jeep owners meet up at Topsail Island this year?
Update July 2020: Topsail Island Jeep Week may happen. Stay tuned to the official Facebook page for information, especially when NC COVID Phase 3 starts.
According to the official Topsail Island Jeep Week website, the annual Topsail Island Jeep Week event will take place September 18 – 20, 2020.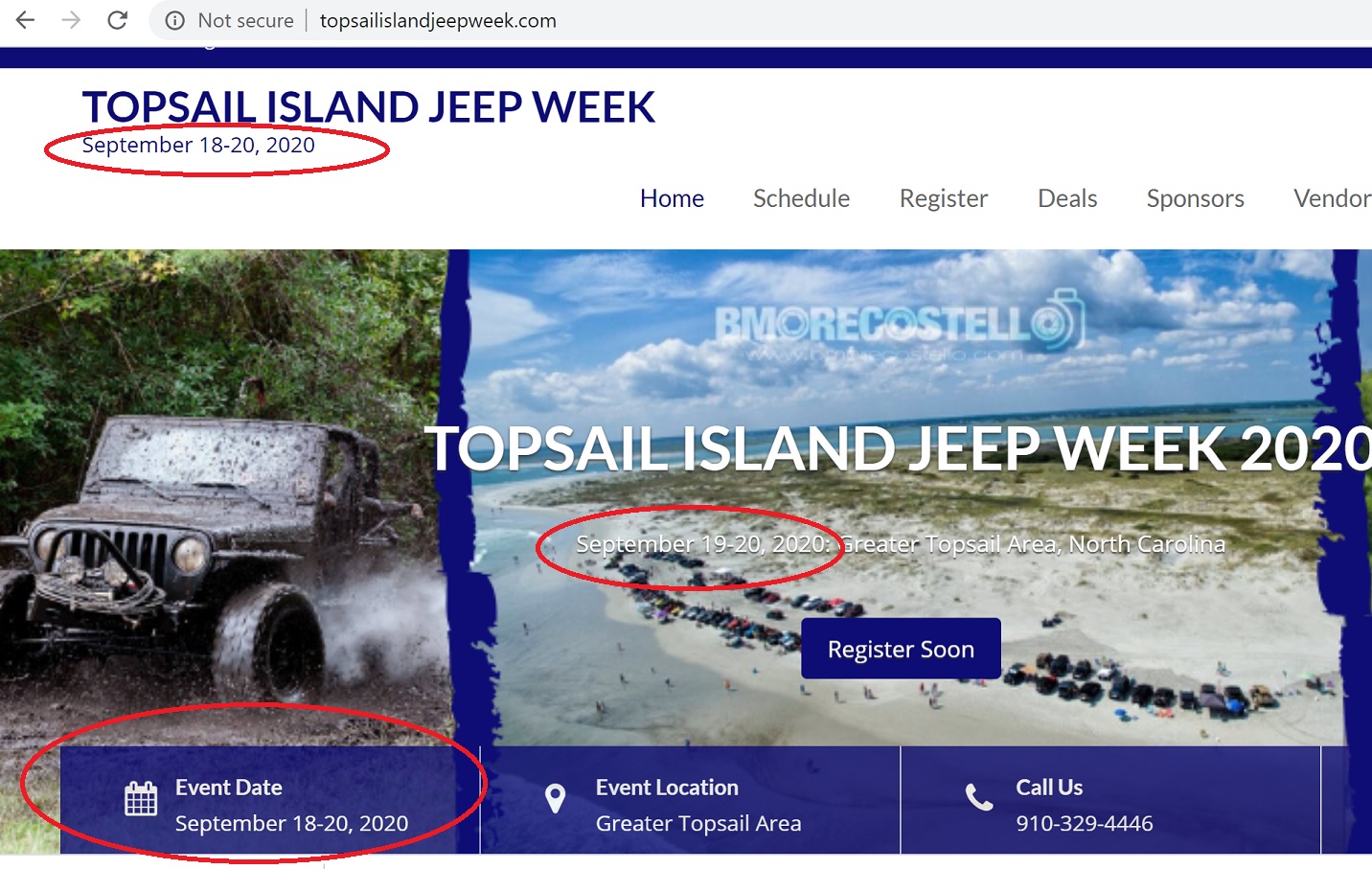 This post appears to have been deleted – Over on the event Facebook page, a post from April 24, 2020 read:
It is with heavy hearts that we have decided that we will not be having Topsail Island Jeep Week this year. We will miss you all and wish nothing but the best.

Keep on Jeepin'
-Your Jeep Week Crew
The only reason I saw this page was because it happened to show up in a Google search. If you want to hide a message and be sure nobody can see it, Facebook is definitely the place to post it. Who even gets these messages? Maybe 0.4% of the people following the page?
Am I disappointed? Definitely.
Isolating people is causing great harm.
Will there be a different Jeep event?
It will be interesting to see if a separate Jeep event pops up.
I'm sure the hosts were advised by their attorneys to cancel to avoid any liability.
I know I'll be there with my Jeep.
I'm not going to bash anyone here. It looks like this has been a great event in the past. I've never even been to it, so I can't say anything negative about it. I'm definitely not upset at the people who canceled it as it's likely out of their control.
But grown adults who choose to be outdoors may absolutely do so without anyone's permission.
So, we'll see.
Stay safe!
The bat virus sucks.
While I'm not elaborating here, yes, I care. I am the guy that works from home, infects nobody, understands science, and is donating lots of food and snacks and masks to frontline workers. My kids are in medical school. My father is old and has diabetes. I get it. I definitely don't want to infect anyone who is going to die from Corona and I don't want to take my chances with it, either.
But I've also had it with stupidity. The solution can't be worse than the cure. I go up to the mountains a lot and they've already closed rocks, streams, waterfalls and forests. That's BS. Hiking out in the forest miles away from other humans is a perfectly healthy activity. Some of these rules are causing more harm than good. Significantly more harm.
Let me know about your Jeep events at Topsail Island.
If you are coming down or hosting an event, please feel free to comment below or shoot me an email.
If you are attending a Jeep gathering, use common sense and don't infect everyone.
Even if there is no event, I'll still wave at you in traffic.