After Hurricane Florence sat along the Carolina Coast, hammering away at Topsail Island for what felt like an eternity, nobody was back on the island. The lack of communication from Town of Surf City outraged business owners, vacationers and most importantly, property owners (they are indeed doing pretty good at everything else other than communication).
After weeks of attempting to contact them I was finally given the green light to enter the island in late September. On October 1, 2018, I arrived in Topsail with saws, chainsaws, wood and hammers to help out. Unfortunately, the house I stay at on North Shore Drive was CONDEMNED.
Speaking of a communication breakdown, this would have been really nice to know before sitting in a truck with my dog for 3 hours just to find out that I needed to turn around.
As a Topsail Island Property Manager (I manage a couple of oceanfront properties VERY reasonably), I arrived to see this sign stapled to the stairs letting me know that the house was inhabitable.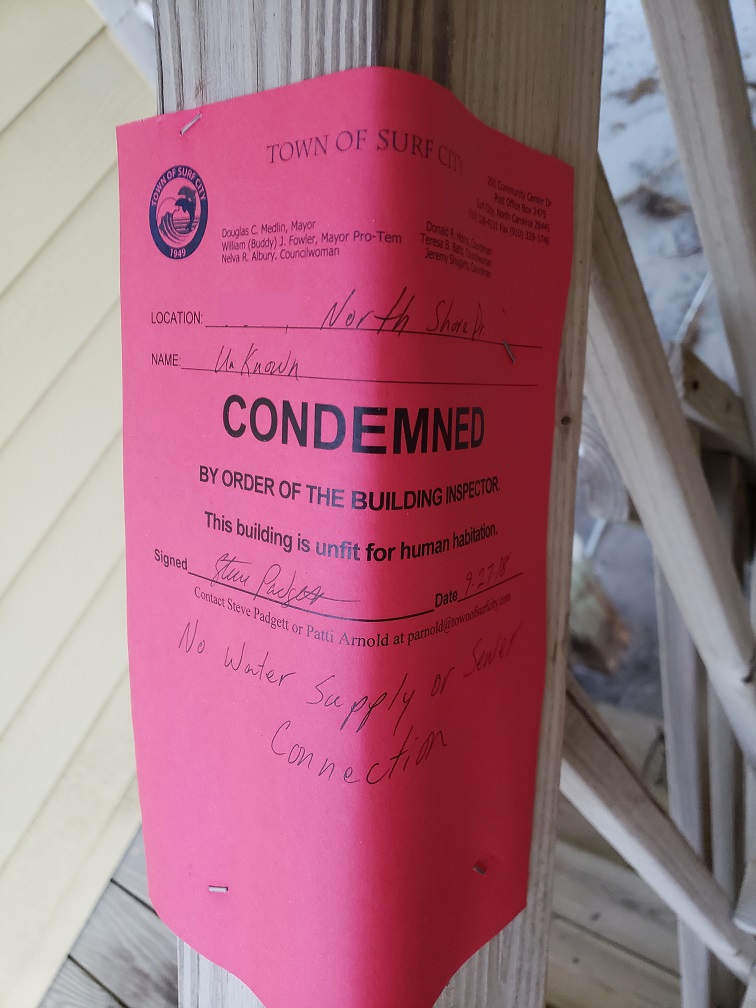 The electric was shut off and there was no running water or sewer. Thankfully, the beach house was fine, other than the deck being ripped off, the gazebo being out near the street, and the piping ripped off.
I was able to get a hold of a friend who is a plumber who will be going down to repair the pipes shortly.
Once I have the water and sewer systems back in working order, I will talk to the Town of Surf City and get the house un-condemned.
Speaking of condemned properties, if you hadn't heard, the Surf City Town Hall building is condemned and there's all kinds of drama surrounding the EMA (Ecological Marine Adventures) building which is also condemned.
If your beach house was also condemned I would love to hear from you in the comments section below. And, in case you were wondering, homes which were condemned will be opened back up once deemed habitable as per the building inspector's satisfaction.