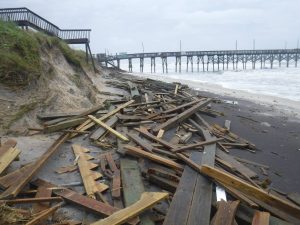 Today I spoke to the owner of a property that I manage and two of the neighbors. Everyone received their insurance check just before Thanksgiving, around November 20, 2018. I'm not sure which insurer they were using.
One guy said his insurance company was very nice. They sent him his check out, and he called today and reopened the claim. The insurance adjuster had not been inside yet. When I got into the house I noticed a thick, musty smell right away. The pillows and upholstery were damp. I would have been in much sooner, although the property had been condemned and we were just able to get power turned on. I threw away the pillows and aired out everything else I could. I ran to Lowe's and got a dehumidifier and in day 1 it has collected gallons of water out of the air.
The only negative thing I have heard of is flood insurance is not covering damage from waves and water. How that works is beyond me.
I also learned that many homes damaged by Hurricane Florence had their insulation blown right out of the walls. Some homes near the ocean have vents in the top of them and apparently the wind got in there or from under the house, blew air up behind the walls and blew insulation right out of the walls.
I was also told there are many homes with mildew and even black mold problems.
How was your insurance?
Please feel free to comment below and let us know how your insurance company treated you.