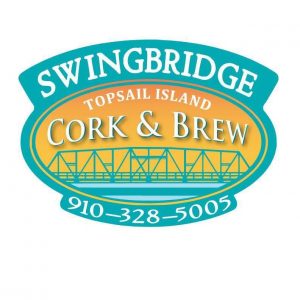 On Thursday, November 21, 2019, Swingbridge Cork & Brew finally publicly announced that they were closing.
If you stopped in during the months prior to this you would know this was coming as there was almost no beer for sale and the refrigerators were unplugged.
The posted on their Facebook page:
It is with great sadness that we must close our doors this fall. Hurricane Florence was not kind to us and we struggled to recover afterwards. We will miss everyone and look forward to seeing what God has in store for our future. Thank you to all our loyal customers!
Did Hurricane Florence Kill Topsail Island Businesses?
Hurricane Florence was a bad one and basically ruined September 2019's season of sales. That said, all of the liquor, wine and beer stores in the area have remained open other than this one.
The recent owners were really great people – could something have been done differently? Who knows. Maybe it was the hours, the selection or the atmosphere or the hurricane – we may never know.
It has to be tough running a business on a sandbar. The vast majority of the sales occur from June – August.
I am indeed deeply saddened to see the Swingbridge Cork and Brew close. I wish the owners good luck on their journey.