The Chopper Blues are all over the sound and some people are getting them at the piers as well in April 2017 and it looks like the fish will still be here in May at this rate.
The chopper bluefish arrival of April 2017
If you fish for Choppers you probably know that they show up in May. Or that they might not show up. And if they do show up, by the time you get to the pier, the darn fish are in deeper waters. Or if you fish at Topail's Jolly Roger pier the fish are over at the Surf City Pier or the Seaview Pier.
This year they showed up in April.
I do not use Facebook but I do visit Seaview's Facebook page and they have been posting pictures of anglers catching Chopper Bluefish almost all month long.
Here's a timeline for the Choppers:
April 9, 2017: Blues are caught!
April 14, 2017: The Choppers are being caught in significant numbers.
April 16, 2017: I was at Surf City Soundside Park at 2PM and people were catching the blues left and right. It was a Sunday. I couldn't fish that day but I returned the next day.
April 17, 2017: Monday – The Blues were off the chain at the park. I showed up at 11AM and by the time I left at 4PM I had 4 Choppers and 2 normal Blues.
April 18, 2017: I returned for a few hours. The wind was going a different direction and I arrived at 11AM again in the rain. No fish until 2PM, then I nailed 3 by 4PM and got out. I got a small blue, too.
April 19, 2017: I only showed up for a few hours and got 1 nice Chopper.
April 20, 2017: it was a bit warmer out. I had been working away on my laptop and I couldn't take it any more. I showed up at 4PM and threw my line in. Within 3 minutes I had a nice chopper on. My next cast would result in a Chopper and a second Blue on the second hook. 1 cast, 2 fish! The bite was insane today and the fish were in a total frenzy for at least 45 minutes. There were only 4 families there fishing and we nailed the fish left and right.
Here's me and a bunch of other people who all caught Choppers within minutes of each other on April 20th: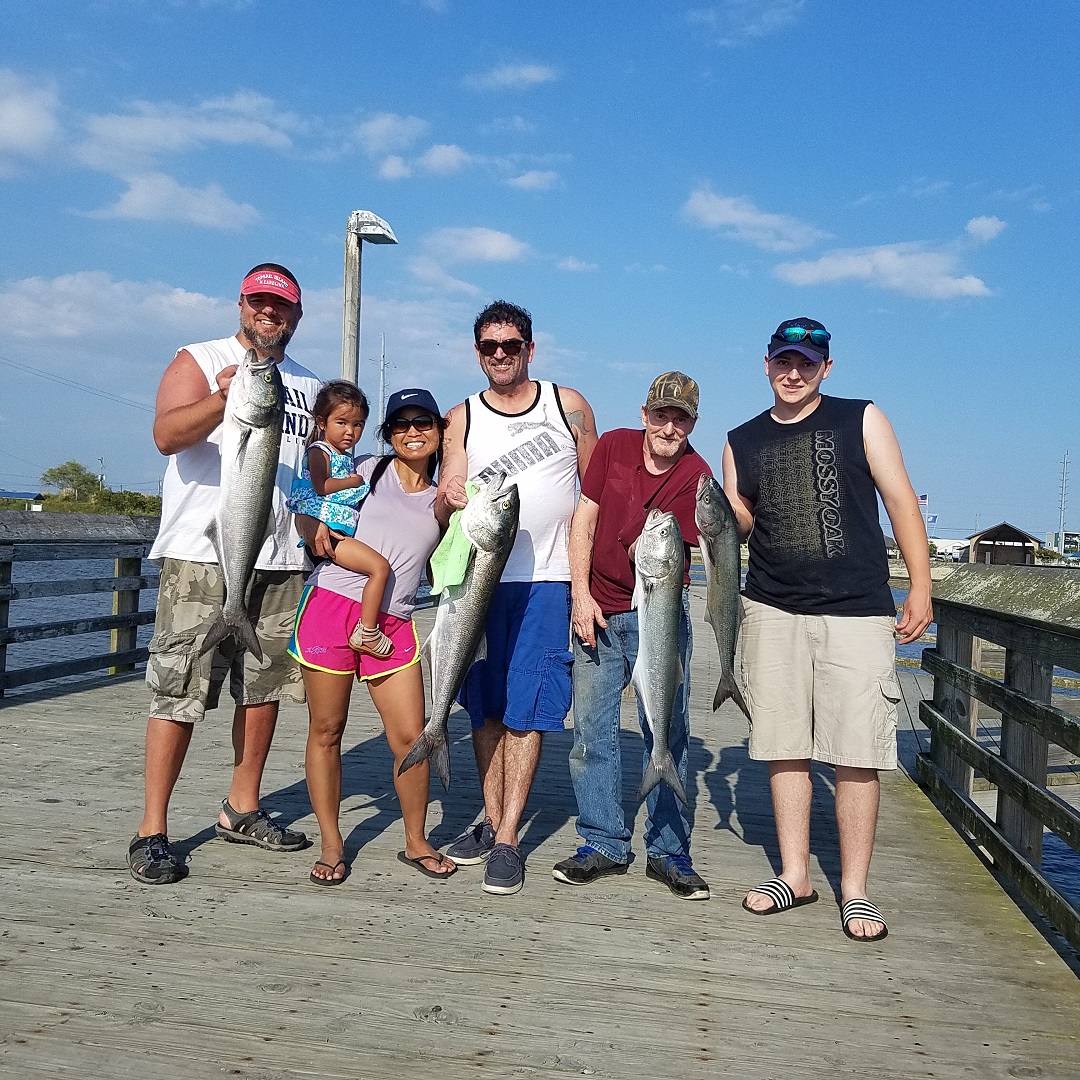 All of us were fishing the bottom. I use Finger Mullets cut in half, although one local guy uses 10″ long live mullets he catches via a net.
The fish have been biting like crazy in the ICWW at high tide and when the tide is on the way in and especially on the way out.
Other fish – April 2017
Anglers at the piers are getting King, Trout, Black Drum and an occasional Red Drum. There are sea mullets out, and people surf fishing are getting the occasional mullet from what I've seen.
I'm not sure what is happening in deeper waters. If you know, please comment below.
Chopper Bluefish gear requirements
To catch the Choppers at Soundside Park you need a few things:
A quality hook. I use a #2 Lazer Sharp Kahle. They are dirt cheap here on Amazon. Take your time bringing the fish in. Let him fight. Keep your drag set right and let him run when he wants. Even with a good hook, they WILL bend it like a little paper clip. Over and over and over this week I have seen people bend their hooks out straight or have hooks snap off in the fish's mouth. Don't do this. If you do this, you loose your hook, you are depressed, and it isn't any good for Mr. Fish, either.
Steel Carolina Rigs and Steel leaders. DO NOT fish here without this. Their sharp teeth will just cut the line and you will look like an idiot and the fish is going to die.
A 12′ pole. This is not a requirement, but I had literally 500% more hits than everyone using an 8′ pole because I could cast my bait out into deeper water. Here's a cheap one on Amazon.
A net. You are going to need to scoop this fish up with a net. Don't even bother attempting to hoist it out of the water. I use this one.
Other tips:
Cooler and ice. Once you catch one, you're hooked. Bring the cooler and ice for this thing.
Make a friend. As soon as I arrive I set up right beside someone and start plowing them with information that I have and set my net down and tell them they can use it. Instant fishing buddy. You will need them.
Extra bait. Bring extra steel leaders and extra bait. When your new fishing buddy run out, hook 'em up.
20lb line. It's what I use with no problem.
Crush your swivel shut using pliers.
Get a NC CRFL license. East Coast Sports sells them.
Is your fish over 15lbs? If it is over 35″ it could be and you could get a special (good) "citation" for it, showing that you caught a fish of extraordinary size.
Please comment below
As we get into May it will be interesting to see if the Choppers stick around or not. I haven't seen this kind of Chopper activity in my entire life! Very exciting.
If you have fished Topsail in April or May please let everyone know how you've been doing, what kind of bait you've been using and what your experience has been.