In late September 2018 after Hurricane Florence blew through, a local Topsail Island man went out onto the beach with his metal detector and found 50 caliber rounds and a huge anti-tank round. He plans on donating the ammo to the Missiles and More Museum.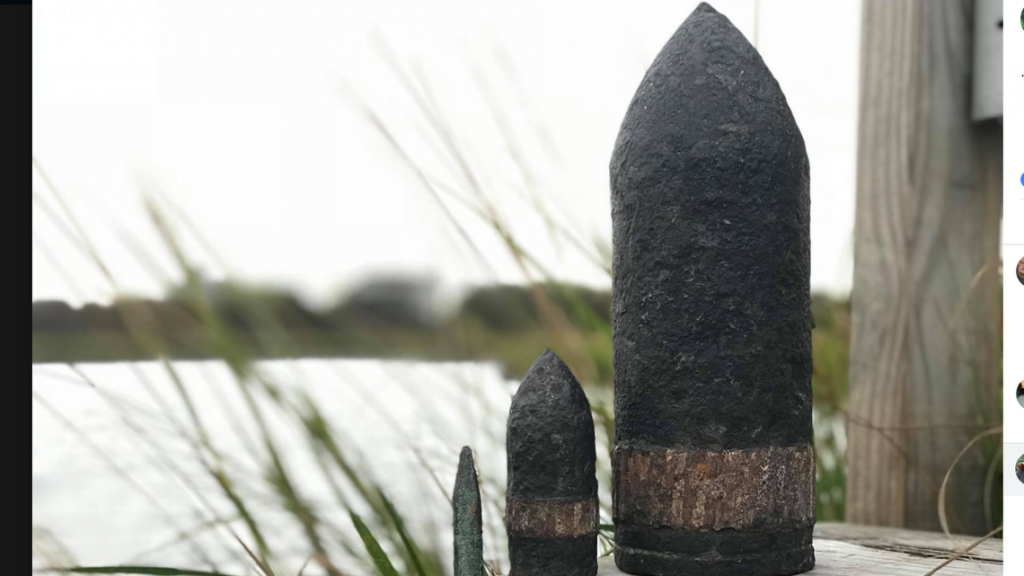 The above image comes from his Facebook post which reads:
Cool finds yesterday!!! World War II armor-piercing projectiles have surfaced on Topsail Island in North Carolina after Hurricane Florence, one being a TWENTY THREE POUND 90mm anti-tank round! I found two large projectiles on the beach along with a pile of shrapnel from detonated incendiary rounds and .50 caliber machine gun rounds! Do not be frightened, these are as safe as a rock! I have dug many of these and they are NOT incendiary(explosive). I have had two professional EOD experts analyze them as an insurance policy to clear the rounds from posessing any potential danger. One is a 40mm projectile and the other is a 90mm anti-tank projectile. These "bolts" are solid machined steel and were designed to pierce thick boat or tank armor. The indention in the base indicates that they were tracer rounds so that the aim could be adjusted by having a visual display of projectile flight! If you find a suspected shell on the beach, do not touch it, clear the area and notify the authorities immediately. These rounds would have been used during World War II as training for fighter pilots and ship to beach firing range training, even WASP training. My plan is to offer these to the Topsail Island Missiles And More Museum on the island for public display. Other finds include silver coins from the war era and even an aluminum canteen!

⭐️The last two images show the same projectile lodged in thick steel plate. I did not find those, they are only used for reference.

⭐️In the video, I assumed the shell was live, as you should if you find one. I was able to instantly recognize what it was when I cleaned the sand off.
This isn't the first time ammo was found on Topsail Island. In fact, North Topsail Beach posted this on Facebook after Florence as well: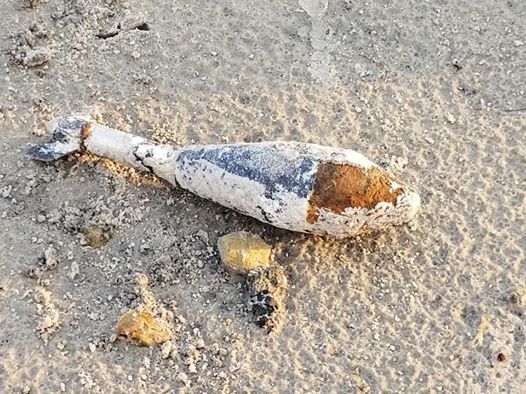 If you find bullets, bombs or other ammo in the sand at the beach, you should leave it alone and call 911 right away. While rare, there are indeed things like this deep in the sand all along the Atlantic coast. In fact, the ARMY has dumped millions of pounds of ammo into the ocean which storms can wash up as well.